CQMD Microwave Downconverter + Power Supply
00002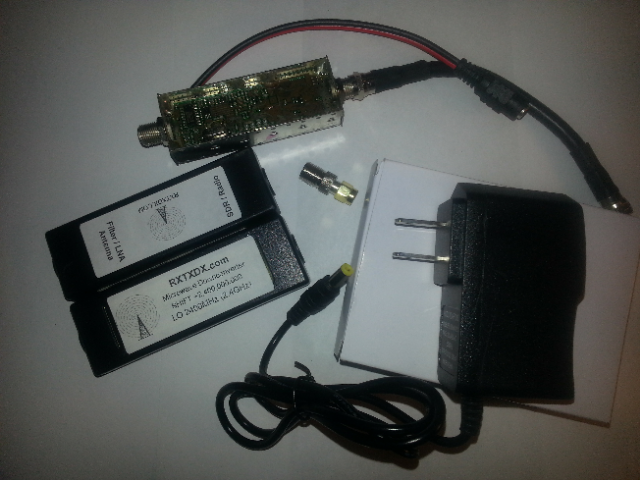 11/29/2017 Wednesday - EFFECTIVE IMMEDIATELY:I am suspending further online purchases until I can catch up on currently placed orders and after that decide on some much needed operational changes. Including a reliable source of the adapters I have been including at no additional cost to you. My regular source has dried up and securing another while keeping YOUR costs down has proven difficult. In the near future it may become necessary to sell the adapters separately as was originally intended.
I've received an adapter shipment today and orders that were awaiting these adapters will begin to go out again tomorrow.
Also due to customs, legal, regulatory issues, and other factors sales/shipping to certain nations in Asia and eastern Europe will no longer be allowed. A full list will be provided in the near future, luckily very few countries are effected. I apologize for this ahead of time but most of these factors are out of my hands.
So again, I'm setting downconverter stock levels to zero for the time being. If you would like further information, want to get placed on the waiting list, or want to discuss any of this feel free to email me at chris at kd0cq dot com or sales at rxtxdx dot com.
Thanks,
Chris - KD0CQ
READ BEFORE BUYING: I'm currently out of F-Male to SMA-Female adapters. I had to order a new shipment from overseas and am awaiting their arrival - which so far has not been very speedy. If you order a unit now know that you may have to wait for several days to a week or longer before your item is shipped.
Also of note: Shipping methods and fees may soon change. I've had an issue with items not getting scanned or delivered at all. So for domestic orders I may switch to UPS delivery.
With the CQ Microwave Downconverter (CQMD) you can easily expand the frequency range of your RTL-SDR or similar device to over 4GHz. The CQMD comes ready to use, Power Supply included! With the included F female to SMA male adapter you can connect to most Software Defined Radios on the market. If your SDR has an MCX connector instead of SMA please leave a note in the checkout form and a MCX to SMA female adapter will be included free of charge!
What you'll receive with your purchase
One (1) CQ Microwave Downconverter with 9v pigtail
One (1) 12 VDC 1A Wall-wart Power Supply for 120VAC
One (1) F female to SMA male adapter
NEW Now includes One (1) F Male to SMA Female adapter for the Ant/Filter Input port!
NEW (9-13-17) Now Includes One (1) 9v Pigtail to DC Barrel Connector adapter for portable use!
Please Note: For a large portion of the unmodified inventory I've received the plastic cases have been scratched and rubbed together during shipment. They were packed poorly. While this does no physical harm to the fully enclosed inner metal case, the operation of the unit, or the ability to perform my modification, it looks unappealing to me. I'd rather not ship it out looking like that. So, I've started shipping the modified units without the plastic case. The inner metal case fully covers and shields the unit, and takes up less space to boot.
Going forward, if you'd like the plastic case shipped with your unit you'll need to leave a message during the checkout process, or send me an email. I'll pick out the best looking one I can find and include it with your order.